3. Raven SEO Tools
I would like to start by saying that the Raven SEO tools suite has the most attractive and navigable menu of all the tools I have ever tried. Sure, Market Samurai relies on a simple, yet effective interface, but Raven has also given a little thought to the design of their software. Originally, its toolset was designed especially for SEO, but it has now evolved into an interdisciplinary product that encapsulates SEO, social media and PPC management metrics. Because Raven was forced to remove the keyword rank tracking part of their system we will not discuss about it.
It's biggest selling point is without a doubt the seamless integration it provides with third party tools, which will enable you to pull data from many sources. The software makes use of Google Analytics data in order to create neat looking reports in a matter of minutes. Since its inception, in 2010, Raven has been constantly adding new features to increase performances. Sadly, they decided to also remove the rank tracking feature, which is considered an essential part of SEO by many companies. Raven doesn't try to be the best in SEO, what it wants is to help you get rid of some useless workload and increase productivity.
This tool was designed with simplicity in mind, and every possible feature has been carefully developed in order to enhance your workflow and maximize SEO efforts. Like the MOZ toolset, it is filled with incredibly useful features that you will probably have to discover on your own. We would like to focus on the most important ones.
The Capabilities of Raven Tools
Raven has so many features that it would be impossible to cover all of them in only one review. This is why I have decided to shortly describe the most effective ones. For more specific reviews feel free to browse the internet. As a matter of fact, most SEO specialists do not make use of all the tools, they focus on the ones which are most relevant to their niche and activity. Nevertheless, with Raven you can gather important information and insights about your targeted keywords, landing page performance, social metrics and many more. The cool user management system makes it possible to invite clients and friends, create tasks with them and share the workload.
Another thing that Raven knows about is customer service. They have a team of experts that await your queries. The team behind this superb SEO tool is extremely dedicated and knowledgeable, so if you are not an expert in SEO they will provide you with useful guides and reviews for their products. The Raven blog is also a great source for information, where you can find out more about the world of search engine optimization. Without further ado here are the basic features that you should not miss:
#1 Website Auditor
It is a daunting task to perform a manual SEO audit, because there are so many things to take in consideration. Raven has made things terrifyingly simple for webmasters, with their Website Auditor tool. With it you can quickly find errors that need fixing, determine the overall performance of your site, and present all the data to your client in an elegant way. The Auditor tool will show you data related to broken internal and external links, duplicate content, meta descriptions and pages, 404 and 301 errors and pages blocked by robots.txt. Before you are done you will be given an overall score for your site according to different SEO, social, content or link parameters. This score will help you understand which areas need further attention.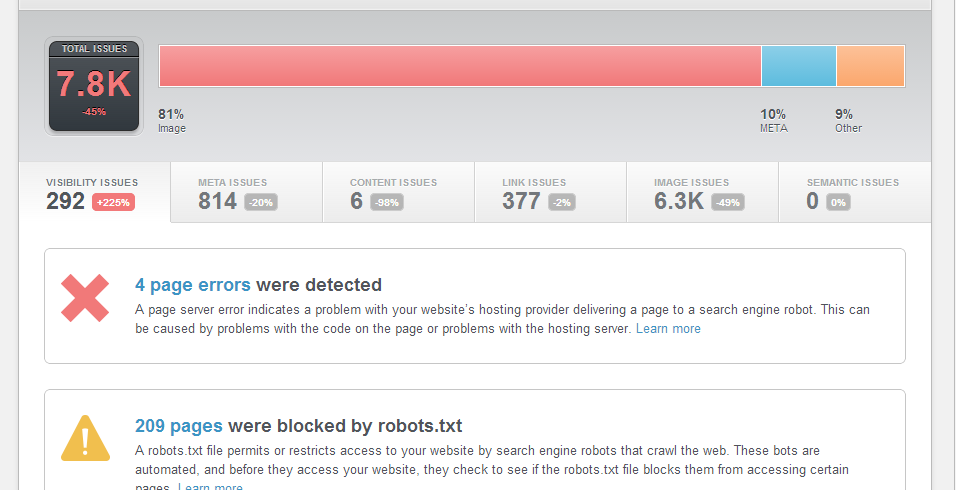 #2 Accurate Rankings
A while back, Raven tools decided to stop their previous rank feature, but they have introduced a better one. It offers personalized and geographic search, but it no longer makes use of Google for rankings. Nevertheless, it will help you create organic graphs that will show how your site is performing on search engines. You can even see how your keyword is performing over time.
#3 Site Analyzers
One of the best features of Raven Tools is the Site Analyzer. It is an innovative software that will present design, quality and keyword analyzers on your dashboard. The keyword analyzer is similar to Moz's Term extractor, and it will show you which keywords are being targeted on different URLs. In other words, it will show you the bigger picture and help you understand how targeted your page is.
The Design analyzer will enable you to better understand how the infrastructure of your site is performing. In other words, it will show you if you are using correct HTML codes, semantic structure and if your outgoing links are fully functional, or if your site is having trouble with loading time. Nevertheless, it is the only data that you cannot export to a PDF and present to clients. Last but not least, the quality analyzer pulls data from Majestic SEO and Moz in order to give you an overall quality score.
#4 Link Management Tools
Another brilliant feature of Raven is the link manager tool, which will enable you to easily scale white-hat linkbuilding. It is true that keyword research is the backbone of SEO, but without ethical link-building techniques there is no chance for your site to rank well in SERPs. It goes without saying that you will have to post articles on sites that are relevant to your niche, and which already have a decent authority. The link manager keeps track of the links that you have already created, it will categorize them by type, source, URL and anchor text. You might think that this isn't important but it is, because if you use the same anchor too many times, for example, you will be penalized by the search engines.
We were talking earlier about the possibility of sharing tasks with your co-workers. For example, if you have hired a guest-poster, you can leave him a note designating the site and the anchor that you want to see posted. In addition to this, the contact manager, which is part of the link management tab, will help you keep track of individuals that you have spoken to, so you never contact them again in the future. If you are part of a major link-building campaign these tools will definitely become life-savers.
#5 Site Finder
This tool is keyword driven and it will give you reports that can be saved under the website profile that you are working on. The great thing about it is that you can let it work while you are off doing other stuff. All you have to do is navigate to it under the Links tab, type the keyword and press "Run". In a matter of minutes it will come back with relevant data that is broken down in a neat interface. You can change preferences in order to display results according to your needs.
Data provided by the Site Finder Tool:
· Domain name
· Link icon
· ACRank (a score based on referring domains)
· Connections (number of sites in the top 10 for your keywords)
· SeoMoz's global link popularity score
· Page Authority
· An options tab with which you can hide things you do not want to see
· The possibility to export the data in a PDF or CSV format.
#6 Social Tools
With the significant increase in social media activity, Raven have taken it upon themselves to provide with accurate data that will support all of your social media efforts. Considering that there are so many networks like Twitter, Facebook, Google+ which require special attention, it is great to know that you can manage them all in one, huge dashboard. Let's take a look at the social toolset:
· Sure, there are numerous Facebook dashboard available online for free, but none can complete with the dashboard provided by raven tools. As a matter of fact you can integrate your Facebook account within Raven with the Google Analytics tool. This will offer you deep google analytics integrations, automatic wall post scheduling, white label reporting of Facebook metrics, and overview of posts and comments. The deep metrics are everything you will ever need in order to make the most out of your social campaign.
· Twitter has also been taken into consideration in the creation of the social tools. Because it is so difficult to quantify in terms of ROI the overall effectiveness of your social campaign, the Raven social toolkit is truly a golden nugget. With the twitter tool you can schedule tweets and post them later. Moreover, you can integrate it with bit.ly (an URL shortner), j.mp and tinyurl. As far as monitoring your activity and engagement goes, you will have access to great stats related to the number of posts, followers, friends, mentions, referral data and retweets.
These are only a few tools which I wanted to present, but Raven has approximately 20 useful tools at the moment. I will simply enumerate them for now, and it is up to you to discover them little by little:
· Report Templates is used to create fully customizable reports on your recent activity.
· Brand Templates is another completely customizable feature that will enable you to create fast report sheets.
· Blog Manager is capable of managing unlimited WordPress blogs
· Event Manager is similar to GA annotations and it will help you track events on your site and spikes in traffic.
· Persona Manager. Most people decide to use different personas for their social media profiles, because they want to maintain anonymity. If you are one of these people you can store multiple personas on your dashboard and use them according to your needs.
· SERP Tracker
· Iphone and iPad apps.
Conclusion
It is safe to say that Raven is a fully features SEO tool that will definitely enhance your overall SEO and social media performance, increase productivity and help better organize tasks. Due to its slick dashboard and third party integrations (with Google, SEM Rush, Wordtracker, Majestic SEO, SeoMoz, Twitter and Facebook) it has become the first choice for numerous webmasters. Check out their blog for the latest updates and juicy news about SEO.
Price:
At the moment, Raven offers a free 30 day trial for people who want to see how it works for them. If by the time your trial expires you decide to continue you will have to pai 99$/month for the Pro plan, and 249$/month for the agency plan. Although it can be quite difficult to comprehend at first, Raven is a superb tool that is definitely worth trying.
Useful Tutorials for Understanding Raven Tools:
· Video: Raven Tools Walkthrough 4/10(there is a complete series that you should definitely follow)
· Video: Link Research and Discovery
· Everything You Need to Know about Raven
· Raven Tools Walkthrough by Ruud Hein